Our society
One waits for times to change,
the other one tackles hard and acts.
(Dante Alighieri)
This motto describes our approach to the support and aid that we offer to the pupils of Hawelti School in Axum (Ethiopia) since 2007. They still need things like pencils, exercise books and school books. A much more pressing problem however, is the lack of drinking water and food, because you can only learn if you are not hungry or thirsty!
As a private initiative we have already enjoyed some success. In 2012 the idea to create a non-profit association to further support this school and the region around Axum arose.
In the summer of 2013 the idea became more and more concrete and on January 3rd 2014 it finally happened: 8 founding members established the "Hawelti" society.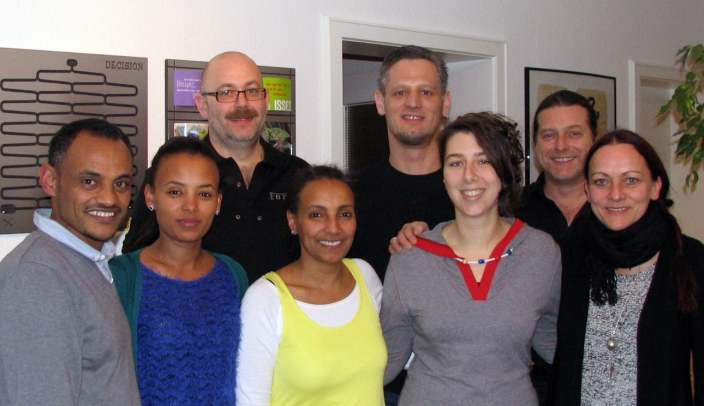 Founding members of "Hawelti e.V."
After the registration in the register of associations at the district court in Nuremberg we finally obtained recognition as a Voluntary or Charitable organisation in February 2014.
Since then our organisation is called "Hawelti e.V.".
Our main objective is capacity building.
Together with the people of Axum we are trying to find ways in which they can improve their career prospects and living situation by themselves. Therefore our most important aim is to support people's education, as well as to provide aid for young and elderly persons.
In addition it is important for us to contribute to cultural understanding: by means of regular campaigns – e.g. Ethiopian-German brunches, Ethiopian coffee ceremonies and more – which we organise within in Germany, to give our guests an understanding of the Ethiopian culture.
For more information, please follow the link here.
We enjoy the support of a diverse range of sources, such as: Individuals, Companies, Public and Social institutions and many artists. As a result of this, we are able to hold many events which allow us to raise money and allow us to continue with our projects and aid programs.
Please help the people in Axum with a membership or by donation!